BRAINERD — As 2021 dawned, Kelsey Anderson looked ahead to the bittersweet lasts: her only child Karlie Anderson's last games as a Warriors student-athlete, her last school dance, her final high school report card.
But Kelsey and her boyfriend Shane Wilson soon found out it would also be a year of firsts. Sudden nausea while at work one day served as Kelsey's clue.
"I just knew," the 35-year-old Brainerd woman said in her living room Wednesday, May 4. "So I just waited and waited, and I thought, well, it's been long enough. I said, 'Shane, you need to go get a pregnancy test,' and he thought it was a joke. He went and got one anyways, and I took it and I had to tell him that I was pregnant.
"He didn't believe me. I had to show him and he still was like, 'Nah, I don't think I can see the line there.' It was kind of a shocker."
"I thought she was joking, and then I thought maybe it was for Karlie," Shane said of Kelsey's request for a pregnancy test. "You know, I was pretty shocked, I guess. Very shocked."
When Karlie got the news, she also didn't think it was true.
"I'm not gonna lie, when I first heard it, for about like a month I thought she was lying and playing a prank," she said during a phone interview from college. "But like, when it finally set in, it was like, 'Holy cow.' I was very excited for her and my stepdad obviously, but at the same time, I was like, 'Oh, I'm gonna miss out on so much because I'm leaving.'"
Just three days after Karlie began her freshman year of college in August 2021, Kelsey gave birth to Tyler Wilson, now 8 months old. The baby boy is Shane's first child by birth.
News of Kelsey's pregnancy surprised the couple for more than one reason. They were in the midst of preparing to become empty nesters when 18-year-old Karlie left home for North Dakota
to play Jimmies volleyball for the University of Jamestown
on a scholarship. And 14 years into their relationship, Kelsey and Shane thought they were past the idea of growing their family. They'd tried for a planned pregnancy years earlier, but when it didn't happen, they accepted that a child together didn't seem to be in the cards — or perhaps wasn't even possible between the two of them.
"We just kind of gave up, thinking Karlie's getting to be pretty old, and we don't want our kids to be so far apart. So we gave up probably a few years ago," Kelsey said. "And one day, it just happened."
Kelsey described the weeks following her positive test as an emotional roller coaster punctuated with bouts of anxious moments and depression over the sudden change to her future.
"It was like, 'Oh my gosh, we're gonna have to do this all over again,' you know — not thinking about how much you're going to love the child, but how much effort you're going to have to put into it and all the stages I've already gone through with Karlie. I'm going to have to do those all over again, starting from square one," she said. "And I was already done. I was done. I didn't have to do those anymore.
" … Sometimes you would think about it and you're just like, 'Wow, I can't believe this is happening.' And then another time you think about it, and you're like, 'Babies are so cute and they're so awesome and so cuddly.' I love babies and love kids. And so then I got really excited about it."
1/20: Kelsey Anderson holds her infant daughter Karlie in one of her graduation photos. Kelsey graduated from Brainerd High School in 2004.
2/20: Kelsey Anderson poses with daughter Karlie Anderson on Halloween.
3/20: Kelsey Anderson was 16 years old when she gave birth to her daughter Karlie.
4/20: Kelsey Anderson and daughter Karlie pose together on a hay bale.
5/20: A young Kelsey Anderson poses with her daughter Karlie Anderson. As a teen mom, Kelsey lived with her parents during the first three years of her daughter's life.
6/20: Karlie Anderson plays in the same jumper her little brother would later use.
7/20: Sue Anderson, left, and her daughter Kelsey Anderson pose together in a recent photo.
8/20: Sue Anderson, left, and her daughter Kelsey Anderson pose for a photo together.
9/20: Kelsey and Karlie Anderson pose together at a Brainerd Warriors volleyball game.
10/20: Kelsey Anderson, right, poses with her daughter Karlie Anderson and boyfriend Shane Wilson at Karlie's graduation from Brainerd High School in May 2021.
11/20: Kelsey Anderson and daughter Karlie pose together after Karlie signed a letter of intent to play volleyball with the University of Jamestown.
12/20: Kelsey Anderson, Karlie Anderson and Shane Wilson pose together in the Brainerd High School gym.
13/20: Kelsey Anderson and daughter Karlie Anderson pose together in front of a sunset at a lake.
14/20: Kelsey Anderson and daughter Karlie Anderson pose together at the softball field at Brainerd High School. Kelsey was the captain of the 2004 team and daughter Karlie followed in her footsteps to play the sport throughout her whole life.
15/20: A pregnant Kelsey Anderson poses with daughter Karlie Anderson at a Brainerd High School softball game.
16/20: Shane Wilson, Karlie Anderson and Kelsey Anderson pose with the University of Jamestown sign in Jamestown, North Dakota. Kelsey would give birth to her son Tyler Wilson soon after.
17/20: Kelsey Anderson and daughter Karlie Anderson pose with new baby Tyler Wilson on the volleyball court at the University of Jamestown in North Dakota.
18/20: Kelsey Anderson smiles while holding her infant son Tyler Wilson at her Brainerd home on Wednesday, May 4, 2022. Tyler was an unexpected but welcome addition to the family.
19/20: Tyler Wilson, 8 months old, sits in an activity bouncer once used by his older sister on Wednesday, May 4, 2022.
20/20: Eight-month-old Tyler Wilson plays with toys on the floor of his Brainerd home Wednesday, May 4, 2022. Tyler was a surprise baby coming almost two decades after his older sister.
The emotions she experienced weren't all that different than the time nearly two decades earlier, when she learned of her pregnancy with Karlie at age 15. Kelsey was not in a relationship with Karlie's father and he was not involved in the earlier years of their daughter's life. She was 22 weeks along when she mustered the courage to tell her own mother, Sue Anderson.
"I didn't even have my driver's license yet. So yeah, I was pretty young," Kelsey said. "But my family helped out a ton. Karlie's dad's family helped out a ton. So then I could go to school and finish."
After a semester spent at the alternative education center,
Kelsey returned to Brainerd High School for her senior year in 2003-04
, serving as a captain of the varsity softball team and graduating on time. Karlie shuffled between a number of caretakers while Kelsey attended school, but sometimes she went with her mother to class or to sports practices. It wasn't a traditional upbringing in the early years, and their age difference meant the pair often felt more like siblings than mother and daughter. In fact, Kelsey and Karlie are closer in age than Karlie is with her new baby brother.
"I had about a thousand parents, with grandparents and aunts and uncles always taking care of me when my mom was busy," Karlie said. "So when I grew up, it was very hard for me to like view my mom as my mom for awhile. … But as we grew up, obviously I realized the respect and stuff needs to be there for my mom, and our relationship has really grown from being siblings to be more of best friends. And I love my mom so much."
Sue recalled her own experience watching Kelsey become a mother much earlier than expected.
"I felt like she was gonna kind of get cheated out of her earlier years. She shouldn't have to be dealing with a child," Sue said. "But then, you know, we knew we wanted to be there for her to help her get through all of it, too. … I guess I just hoped that we were good parents, so hopefully she would kind of follow suit."
Sue said her daughter was headstrong and rebuked the suggestion of putting Karlie up for adoption. With a robust support system and while living with her parents in the first years of Karlie's life, Kelsey made it work. But it wasn't always easy.
"I remember one night, I heard her crying upstairs. Because you know, she was tired and she was nursing Karlie," Sue said. "She was tired and she was just young. And so I went up there and talked to her a little bit, but still gave her her space that she needed."
Those early challenges solidified the foundation of a strong mother-daughter relationship between Kelsey and Sue, one that's only grown over the years. Kelsey said with her second go-around at motherhood — or as she calls it, "the perfect definition of taking turns" — she continues to turn to her mom for advice and feedback on her parenting decisions. Tears welled in her eyes as she talked about her mother's encouragement.
"I can pretty much call her anytime of the day and she'll answer, so she's probably my No. 1 support," Kelsey said. " … I have a great relationship with my mom. She's probably my best friend, I would have to say so."
Now settled into her new life as a stay-at-home mother to an infant, Kelsey said she and Shane, 42, have grown as a couple in ways she didn't expect and she enjoys the experience of watching him as a father in a new way. She's viewing this second crack at motherhood as a mature adult as a chance to take a different approach — although several of Tyler's toys were once Karlie's, resurrected from a long-forgotten corner of storage.
"I think a lot more about my actions and how they will affect him, versus, you know, when I was younger, I probably pushed Karlie aside a little bit to do my own thing," Kelsey said. "I mean, she was with me all the time, but I wasn't necessarily thinking about the different things that I should be doing for her development. And now I do that with him a lot."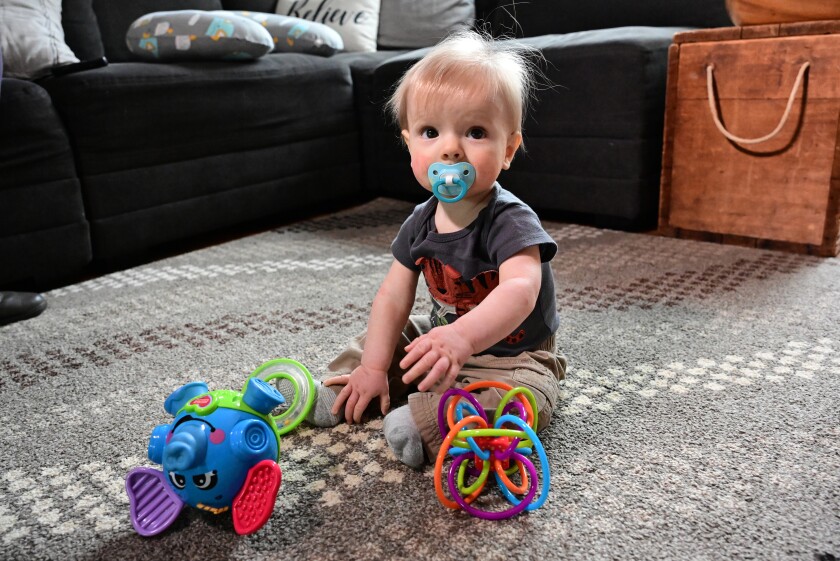 Kelsey and Shane said they're in a much better financial position this time around as well. Shane owns his own business doing plumbing, heating and cooling, which he said continues to become more successful as the years go on.
"We'll probably try to do some traveling with him, get him to see stuff that, you know, with Karlie, when she was growing up, we didn't have much money when we first got together," he said. " … We don't have to worry about money as much anymore like we had to before."
As the mother to her parents' oldest and youngest grandchildren of seven total, Kelsey is in the unique position of being able to offer advice to those having children both earlier and later in life.
"I definitely don't recommend having children when you're that young, that was definitely a struggle. I would say, you know, get an education and establish yourself, get a good ground and then find a husband and then you maybe have a family after that," she said. "As far as having a child later in life, if people want to do that, well, go for it. It's been one of the best experiences I've had so far in my life. I mean, Karlie was a pretty good experience as well, but being more mature, it's better now than I think it was then."
If Karlie has anything to say about it, Kelsey is selling herself short.
"She taught me that literally nothing is impossible," Karlie said. "I mean, she had a kid in high school and went through it and didn't really care what other people thought. And that was a big lesson growing up — don't really listen to what other people think and just do what you think is the best for you, and it's really shown throughout our whole relationship.
" … She didn't get to fully live out high school sports as much as I did and as much as I get to in college. And so I'm doing it almost for my mom, making sure I get to the highest level I can. And I mean, she taught me the love for volleyball and the love for softball. So I'm really doing this all for her."
CHELSEY PERKINS, community editor, may be reached at 218-855-5874 or
. Follow on Twitter at
.
window.fbAsyncInit = function() FB.init(
appId : '290544173094708',
xfbml : true, version : 'v2.9' ); ;
(function(d, s, id) var js, fjs = d.getElementsByTagName(s)[0]; if (d.getElementById(id)) return; js = d.createElement(s); js.id = id; js.src = "https://connect.facebook.net/en_US/sdk.js"; fjs.parentNode.insertBefore(js, fjs); (document, 'script', 'facebook-jssdk'));