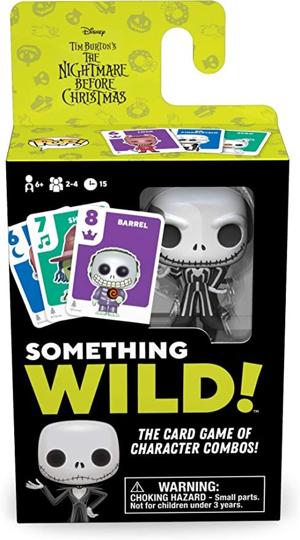 If you're planning a Halloween party and are looking for fun activities, look no further than the following Funko card and board games for the whole family.
Something Wild! The Nightmare Before Christmas (Ages 6+) – Is it a Halloween movie or a Christmas movie? In my house it's both! If you're a fan of the movie than this is a great card game for you. The game play itself is pretty quick, 15-20 minutes and it's very straight forward. My kids both love this game, especially since they always beat me. I love games that are both simple and fun.
Boo Hallow: Pumpkin Showdown (Ages 6+) – This card game requires a minimum of 3 players but would best be played with up to 6 players. The object of the game is quite simple, dodge the pumpkins. Don't worry though, you're not literally throwing and dodging pumpkins! This is a strategic game where players can strategically eliminate other players, with the goal of being the last player standing. My kids had a lot of fun with this one.
Hocus Pocus: Tricks and Wits (Ages 8+) – It's children vs witches in this fun card game that requires a really good poker face. There are two ways to win, either by being the team with the book card at the end, or the team with the 2 special cards. That poker face comes in handy when you score those cards (my kids cleverly jumped up and put face masks on to hide their smiles). I may have a hard time persuading my eldest to watch the movie, but he did have a blast playing the game.
Return of the Headless Horseman Game (Ages 6+) – The goal of this game is quite simple; get Ichabod to the covered bridge without being caught by the Headless Horseman. I absolutely love co-operative games, so this one was fun to play with my kids, strategizing together and winning together. I always get a little nervous when I see games with fancy spinners, but the quality of this game is wonderful and the spinner worked flawlessly each time.
Funkoverse: Universal Monsters (Ages 10+) – If you've played a Funkoverse game before and enjoyed it, then you'll love this one. The Funkoverse games can be played as stand alone or expansions. The unique thing that stands out to me with this game is that it's mostly in black and white. A few of the game play tokens have splashes of colour and there's one red dice (the blood die) but everything else is black, white and shades of grey. This detail really elevates it as a Halloween game, setting that perfect spooky vibe. The game is for ages 10+, but the Funkoverse games can be a little tricker for 10-12 year olds. I recommend that when playing with that age group to make sure that you've read through the manual and can easily explain the game play to them so that you can dive right in a play. 
Meredith is a Disney obsessed stay-at-home mom. When she's not planning a trip, you'll find her with her nose in a book. Follow her on Instagram.